COVID-19: questions and answers about the vaccine
Take a look at what you need to know about the COVID-19 vaccination programme including how you will know when it's your turn, where to go, and why it's important.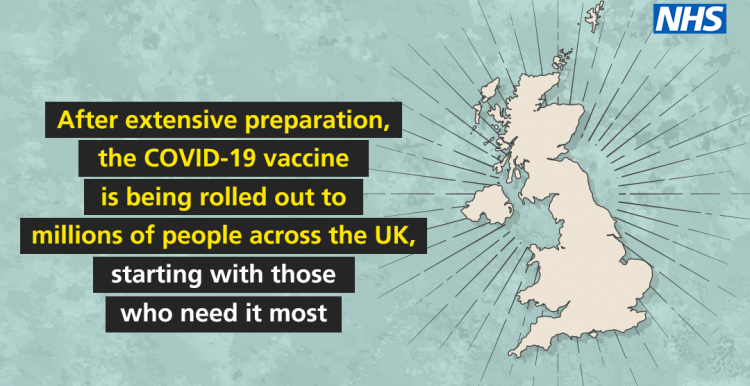 Please do not contact the NHS to seek a vaccine, the NHS will contact you.
When you are contacted, please book and attend your appointment. Do not arrive early or late as the vaccination centres cannot accommodate you.
Please continue to follow all the guidance to control the virus and save lives.
Vaccine safety 
How do vaccines work?
Video for adults with learning disabilities and/or autism.
Vaccines teach your immune system how to create antibodies that protect you from diseases. It's much safer for your immune system to learn this through vaccination than by catching the diseases and treating them. Once a vaccine has trained your immune system to know how to fight a disease, it can often protect you for many years. 
Are vaccines safe?
Vaccines are now safer than ever before. Any vaccine must first go through the usual rigorous testing and development process and be shown to strict standards of safety, quality and effectiveness before it can be deployed.
How was the vaccine developed so quickly?
Medicines, including vaccines, are highly regulated – and that is no different for the approved COVID-19 vaccine. There a number of enablers that have made this ground-breaking medical advancement possible and why it was possible to develop them relatively quickly compared to other medicines;
The different phases of the clinical trial were delivered to overlap instead of running sequentially which sped up the clinical process;
There was a rolling assessment of data packages as soon as they were available so experts at the MHRA could review as the trial was being delivered, ask questions along the way and request extra information as needed – as opposed to getting all information at the end of a trial;
Clinical trials managed to recruit people very quickly as a global effort meant thousands of people were willing to volunteer.
What is the evidence to show the vaccine is safe for BAME communities?
The phase three study of the Pfizer BioNTech COVID-19 vaccine demonstrated a vaccine efficacy of 95%, with consistent efficacy across age, gender and ethnicity. The participants were White, Black or African American, Hispanic/Latino, Asian and Native American/Alaskan.
The safety data for the AstraZeneca vaccine from over 20,000 participants enrolled across four clinical trials in the UK and Brazil and South Africa has shown that there were no serious safety events related to the vaccine. Participants were from diverse racial and geographic groups who are healthy or have stable underlying medical conditions.
What is in the vaccines? Are they vegan/vegetarian friendly? Do they include any parts from foetal or animal origin?
The vaccines do not contain any meat derivatives or porcine products or material of foetal or animal origin. A detailed review of the vaccines and their ingredients have been provided by the MHRA and can be found at the following links:
The British Islamic Medical Association have produced a helpful guide for the Muslim community which can be found here.
Are there any side effects?
Like all medicines, vaccines can cause side effects. Most of these are mild and short-term, and not everyone gets them.
You should not have the vaccine if you've ever had a serious allergic reaction to:
a previous vaccine
a previous dose of the same COVID-19 vaccine
some medicines, household products or cosmetics
Serious allergic reactions are rare. If you do have a reaction to the vaccine, it usually happens in minutes. Staff giving the vaccine are trained to deal with allergic reactions and treat them immediately.
We have done an incredible job to get as far as we have with the vaccine programme in this country, we know the future roll-out plans are ambitious, but they are achievable and hopefully now people can see there is a light at the end of the tunnel.
Receiving the vaccine
Is the COVID-19 vaccine compulsory?
There are no plans to make the COVID-19 vaccine compulsory
When will I get the COVID-19 vaccine?
The NHS will contact you when it's your turn to get the vaccine.  
The NHS vaccinate those most at risk first, and those who work closest with them - care home residents and staff, followed by people over 80 and health and social care workers, then other people in order of age and risk. You can find the full prioritisation list here. 
Do not contact the NHS first, they will contact you.
How might I be contacted to get my vaccination?
Local hospital services - you might be contacted either to have the vaccine as an inpatient or at an outpatient appointment.

 Local GP services - practices in your area are working together to contact and offer the vaccine to as many people as possible. This may be at a different surgery than you usually go to, or at a venue that has been set up specially to deliver vaccines. 
Through your care home - GPs and their teams are also arranging to vaccinate care home residents directly, in their homes.
Where do I go to get my vaccine when I'm contacted?
Hundreds of local vaccination services run by family doctors and their teams have opened across the UK, as well as specific vaccination centres. You will be given information by the NHS about where you need to go for your vaccination appointment(s) when contacted. If the option given is not suitable, you can request for a more local centre for your appointment.
I've contacted the national booking service but I can't travel to one of the locations that are available, what should I do?
More locations will become available in the coming weeks so you could try again later. Alternatively, you can choose to wait until your local GP service invites you for the vaccine.
Protect yourself from fraud
In England, the COVID-19 vaccines will only be available via the NHS. You can be contacted by the NHS, your employer, a GP surgery or pharmacy local to you, to receive your vaccine.
Remember, the vaccine is free of charge. At no point will you be asked to pay.
The NHS will never ask you for your bank account or card details.
The NHS will never ask you for your PIN or banking password.
The NHS will never arrive unannounced at your home to administer the vaccine.
The NHS will never ask you to prove your identity by sending copies of personal documents such as your passport, driving licence, bills or pay slips. 
How will I know my vaccination invitation is genuine?  
To protect yourself and your family members from fraud and criminals, remember the following points:
The vaccine is only available on the NHS for free to people in priority groups, and the NHS will contact you when it is your turn. Anyone offering a paid-for vaccine is committing a crime.
The NHS will never ask you to press a button on your keypad or send a text to confirm you want the vaccine, and never ask for payment or for your bank details.
At the moment we are also not making house calls to deliver or discuss the vaccine. Anyone offering this now is probably committing a crime.