The hidden needs of carers in Newham
Between October 2019 and February 2020, we engaged with 57 carers using a combination of online questionnaires, interviews, and focus groups.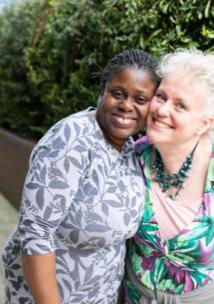 Summary
To explore the experiences of carers in accessing health services and receiving support, as well as the impact caring has on their lives, Healthwatch Newham used a mixed-methods approach. Carers were asked to either complete an online questionnaire, take part in an interview or a focus group.
Key findings
Most carers receive the carer's assessment; however, some still experience difficulties in receiving follow ups and getting in contact with the Adult Social Care team.
It is important to note that the Adult and Social Care Newham team often conducts the needs assessment and the carer's assessment combined into one session. The distinction between the two assessments is not always explained to clients, therefore leading to confusion at times.
Peer support groups for carers should not be underestimated. Such groups serve as a platform for many carers to feel connected to their communities, receive social support and stay updated on services and support available to them and the person they care for.
Establishing adequate emergency plans for carers has been an ongoing issue for the Adult and Social Care team. This will be one of the focuses for the new Joint Carer's Strategy being developed in 2020.
Healthcare staff's attitudes has a big impact on the experiences of accessing both primary and secondary care services.
Being a carer affects most aspects of someone's life, in particular mental and physical wellbeing. It can also be hard to keep a job, even if part-time.
Can't have a social life, no time at all. I can't even dream of a social life. I would like to be able to go out and have friends but that is just no possible.
Recommendations 
GPs and social workers need to continue to identify carers to refer for the carer's
assessment.
Carer's assessment must ensure (a) carers receive a copy of the assessment, (b)
understand the difference between the carer's and the needs assessment, and (c)
receive a follow-up.
Services are advised to provide information to carers in writing.
Services should increase awareness of mental health services available for carers.
Engage with a wide range of carers by partnering with local community groups or
Healthwatch Newham.
Involve older carers in the development of strategic plans for longer-term plans.
Hospital passports should be used by ward staff at NUH and be included in staff
training to promote awareness.
Services should continue to support carers' peer support groups with updated
information and resources.