Keeping All Adults Safe In Newham
Healthwatch Newham hosted an event on Friday 19th November 2021 on how to keep all Newham residents safe. Read below for more details about the event!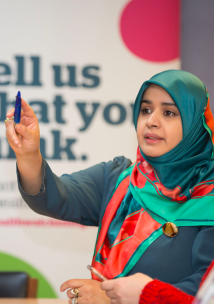 Summary
The event on Friday 19 November 2021 proved to be very successful with 40 attendees from local groups, organisations and residents.
The event showcased our latest work in partnership with the Newham Safeguarding Adults Board, where we presented the findings of our 9 months long research and our recommendations, focusing on what the community told us about what would help them to keep safe at home and in the community.
The event was a great opportunity for residents and local groups to raise concerns and ask questions to Newham Council Safeguarding services.
You can find out more about the event in the presentation slides below.
Further details on the event, with a  summary report will be available here shortly.