Obstacles to older people's access to GP services
This research project, carried out by Newham Older People's Reference Group (OPRG), aimed to gather feedback from older people living Newham about their experiences of accessing GP services and what the obstacles they face in Newham.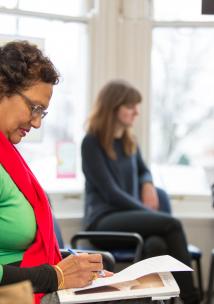 Summary
Age UK East London supports older people to live with dignity and independence whilst reducing social isolation. Questionnaires were used to survey OPRG Newham members and other older people's groups (50years plus) in the borough on their experience. 61 questionnaires were completed.
Key findings
23 respondents (38%) gave not being able to use the internet as the main obstacle. This was followed by having a disability/impairment or long-term condition as the second highest obstacle (11 respondents (18%).

22 respondents (36%) chose 'telephone' as the most preferred method of making appointments; followed by 'face to face' (12 respondents (20%)) and 'online' (5 respondents (8%).

The focus group discussion at Newham Chinese Association revealed that the Chinese community have Language barriers as many don't know English. Therefore they are unable to use the internet if it is all in English.
Over half, 35 respondents (57%) had not heard of the 8am-8pm service before. Only 18 respondents (30%) had heard of it before but mostly haven't used it. 32 respondents (53%) said they would be happy to use the service in the future.
Recommendations
More targeted promotion should be provided to older people about the 8am-8pm service and additional health services, such as NHS 111 and Walk-In Services, available in the borough.
A range of methods for accessing GP and health services should be made available. The majority of older people do not or cannot use the internet or a computer.
Interpreting services in GP surgeries and other health services such as hospitals are needed to provide the Chinese community with communications support.
Newham CCG to clarify whether GP home-visits are available, under which circumstances and whether frail or housebound elderly residents would be entitled to this service.