Our annual report 2019-20
Find out more about the ways we're helping to improve people's experiences of health and social care services in our annual report for 2019-20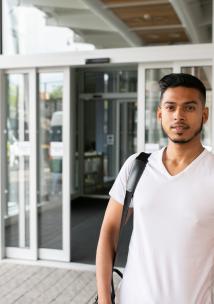 Summary
Read our annual report to find out more about our work between 2019 and 2020.
About us
We were established in 2013 and are part of a national network led by Healthwatch England.  We have a seat on the Newham Health and Wellbeing Board and the Newham Clinical Commissioning Group (CCG) Governing Board.
We are the independent voice for residents of Newham who use health and social care services. Our vision is of a thriving and active community of Newham people who want to influence and contribute to the development and delivery of quality health and social care in the borough. 
Our year in numbers
Last year, over 1,300 people shared their views, ideas and experiences about health and social care in Newham.

During the year, the service supported over 120 residents with more than 300 issues, working with a wide range of communities in Newham, reflecting the diverse local population.

We engaged with 111 young people to find out their expereinces of mental health services.
Highlights from the year
Young people's mental health
Young people previously revealed experiencing barriers to access mental health services. In 2019, we used focus groups and questionnaires to understand the experiences of young people using mental health support services.
Most young people did not have the first-hand experience of using mental health services for severe mental health issues.
When feeling down, young people preferred approaching friends, family or go online.
The least perceived supportive sources were schools and health services (including GPs, pharmacies, and hospitals), due to stigma and staff's attitude.
Many did not understand how mental health services work and what standards to expect.
Young people want services to be more youth friendly and relevant to them.
Hidden needs of carers
Through public engagement, our team observed a pattern of issues experienced by unpaid carers in Newham. An initial focus group with a peer support group for older carers was set up to identify the main issues carers experience and what support they are able to access. This led to us expanding the project to explore carers' experiences of receiving a carer's assessment, their knowledge of and ability to access available support in Newham and the impact their caring role has on their lives.
Homeless and rough sleepers access to health services
Following concerns raised around accessing healthcare for unregistered patients, we conducted research on homelessness and rough sleepers to get a better understanding of their access to primary care (GP) and mental health services in Newham.
We spoke to a total of 29 participants during the research and visited 7 organisations that provide support for homeless people in Newham.