COVID-19 vaccination in Newham update #2
The Covid-19 vaccination programme is still underway in Newham. If you are in groups 1 to 4 and haven't had the vaccine, contact your GP.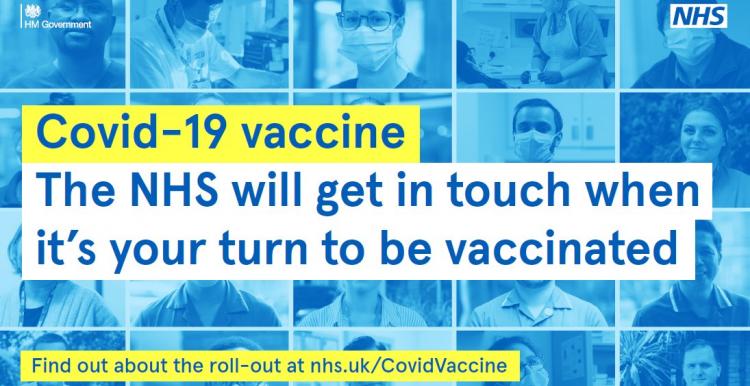 Initially, vaccines will be provided to the key priority groups as identified by the Joint Committee on Vaccination and Immunisation:
Residents in a care home for older adults and their carers
All those 80 years of age and over and frontline health and social care workers
All those 75 years of age and over 
All those 70 years of age and over Clinically extremely vulnerable individuals
All those 65 years of age and over 
All individuals aged 16 years to 64 years with underlying health conditions which put them at higher risk of serious disease and mortality
All those 60 years of age and over 
All those 55 years of age and over 
All those 50 years of age and over
Information about the COVID vaccine for people with a learning disability and autistic people:
The NHS is now vaccinating people in priority groups 1 to 6.
If you are:
aged 70 or above or clinically extremely vulnerable (high risk) and have not had your first vaccination and haven't been booked in yet, please contact your GP
a resident or work in a care home for older adults and haven't had your first vaccine and aren't booked in for one, please contact your manager
a frontline health and social care worker, please book on the national booking system or contact your manager or book using the staff booking system applicable in your organisation
aged 65-69 please book onto the national booking system for a list of sites or wait to get a letter from the NHS or you will be contacted by your GP.
Alternatively, you can book an appointment at some vaccination sites online by calling 119 (you don't need a letter from the NHS). You will need your NHS number OR date of birth and postcode to make the booking. You can find your NHS number HERE.
If you are:
aged 16-64 and clinically vulnerable (moderate risk) or you are in receipt of a carer's allowance, or if you are the main carer of an elderly or disabled person whose welfare may be at risk if you fall ill, please wait for your GP or council to contact you.
Information about the COVID-19 vaccine in BSL:
Accessibility
Parking at the ExCel centre is free for those attending the vaccination centre. 
If you require a BSL interpreter you can use the Interpreter Now app. Upon arrival ask a member of staff to support you with this. More information here: interpreternow.co.uk/nhs119
Age UK East London - Vaccine Support 
Age UK can collect you by one of their home and care team in an Uber cab and take you to your vaccine destination point. They will wait with you whilst you have the vaccination and will then escort you back home. The service is available across Tower Hamlets, Newham, City & Hackney and Waltham Forest. You can call:
Home & Care Services Manager on Mobile: 07754 751 079  OR 
Reception on 020 8981 7124
There is no cost to you as the service is free.
Want to find out more?
If you have concerns or questions about the vaccination, come along to one of the Newham council's Q&A sessions with Newham NHS, the council's Public Health team and academics from the medical industry.
Event: Covid-19 vaccine information sessions
When: Every other Wednesday, 7-8 pm on Zoom
Next Q&A: Wednesday 20 January
Email to receive a registration link
covidhealthchampions@newham.gov.uk 
Have a conversation with a Vaccine Peer Supporter
Vaccine Peer Supporters are volunteers from the Newham champions programme who will listen to your questions, concerns and worries. They can also answer basic questions about the vaccine and find out more information if useful.
Vaccine Peer Supporters have all received training and can support others in their community.
 covidhealthchampions@newham.gov.uk